Singapore Sound Sculptures
In this project, I am interested in capturing the unique sounds of Singapore which often go unnoticed and are sometimes slighted due to their frequent everydayness. These sounds shape the daily acoustic environment of Singapore. The beeps of MRT doors closing, the chatter of birds on Orchard road, the frequent bus taps, the walk signal prompts and even the quietness of the Botanic gardens, together are a part of the Singapore Soundscapes – a combination of natural and human sounds that signal and communicate, movement, energy, flow, speed and functioning.These environmental acoustics are signals that interact with the larger community and represent the working constructs of the city. An audible impression of functioning civic bodies indicating a culture invested towards public safety and well-being. Moreover, these sounds, over some time, evoke a sense of nostalgia and a sense of belonging. Using the techniques of 3D printing, I aim to memorialize the unique sounds of our island city and represent them as visual objects – a reminder of dynamism, vitality and momentum of a well-functioning cityscape. These technologically created sculptures, with their unique pitches and slopes partake from the city's colorful heritage and delight the viewer with a vibrant display on reflective surfaces, accompanied by their recorded audio notes.
The process involves capturing and refining the sounds through mobile phone recordings which are then converted to images. These images are then extruded and reworked to form 3D objects. The documentation includes photographs, videos and audio grabs of the spaces from where the sounds have been captured.
1. Botanic Gardens
2. Grasscutters
3. Bus Bell
4. MRT
5. Walking Beep Sounds
6. Orchard Road Birds
7. I love you Singapore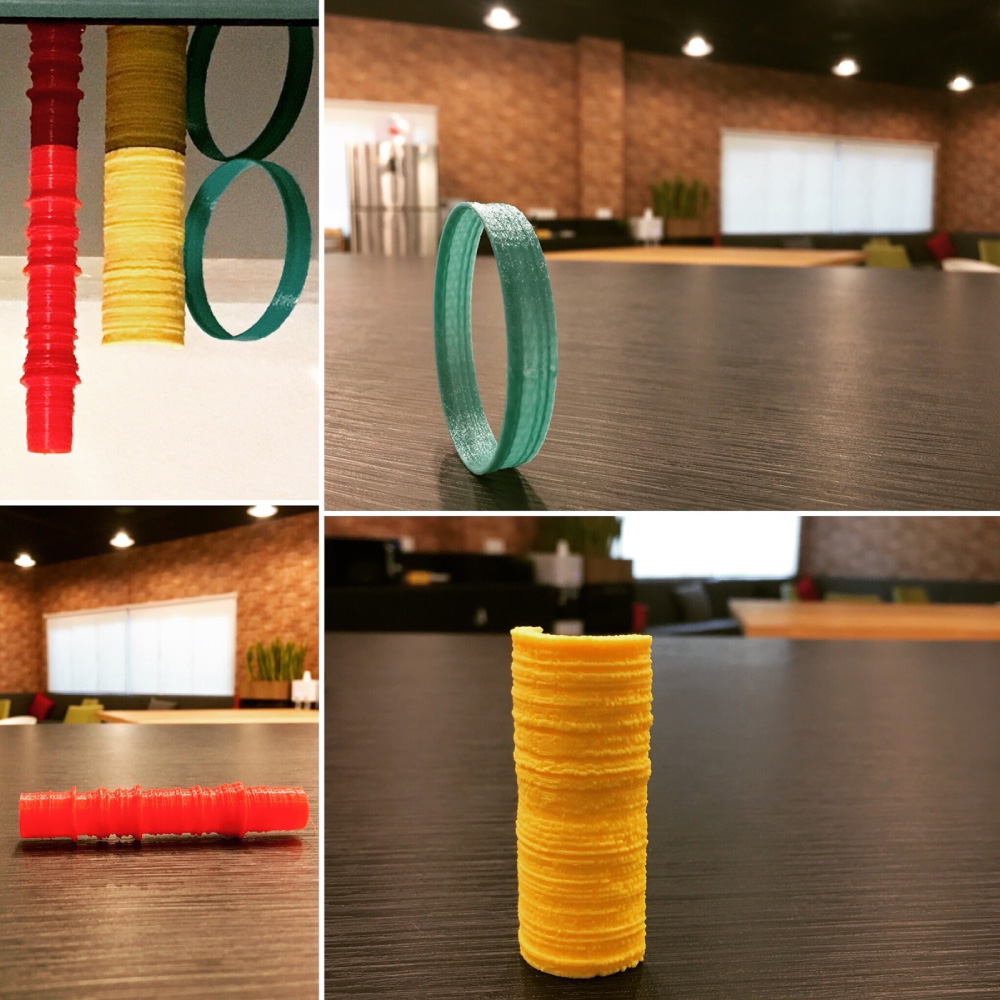 3D print, PLA filaments of various colors, 2018, Size: Variable (max. 10 x 15 cms)
Audio: Singapore Sound Sculptures
Little India Sound Sculptures, Singapore
Little India Sound Sculptures are 3D printed forms that are a result of transforming sounds into visual imagery. The sounds collected are those that shape the daily acoustics of Little India relaying through its sonic soundscape – meaning, emotion, memory and discordance, giving one, a sense of place and belonging. The sounds bring out the unique ethnicity of the space and are a byproduct of its historical, political, religious and cultural contextualization. The organic development of Little India, historically and over the years inspires the artist to create these sculptures as organic forms drawing its influences from nature and its environs. Using techniques of 3D modeling, printing and heat molding, these digitally created, yet poetic looking forms, with their unique pitches and slopes appear in pure white contrasting the clean sterile environment of the city against the cacophony of its chaotic sound marks.

3D print, HIPS 1.75mm white Filament, 2018, Size: Variable (max. 10 x 15 cms)
Audio: Little India Sound Sculptures, Singapore